2nd Chance Wood Company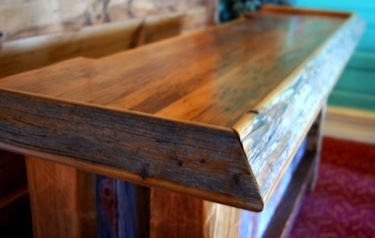 Whether you're building a brand new home or renovating an existing structure, using reclaimed wood products is a simple way to lower your project's environmental footprint and create an authentic, beautiful decor. The 2nd Chance Wood Company is a Michigan-based company that specializes in reclaimed wood products, from furniture to flooring.
Reclaimed Wood from the Past
The well-built homes, barns, churches, and other structures from decades past were often built using wood sourced from old-growth trees that filled the vast forests of North America. Unfortunately, our ancestors didn't utilize the best forestry practices, and most of these old-growth trees, and the wood they produced, disappeared.
Now, companies such as the 2nd Chance Wood Company are making this high-quality wood available for modern homeowners by salvaging materials from structures that have reached the end of their lifespan. Rather than being destroyed during demolition and creating large amounts of waste, the wood is carefully reclaimed and given new life: flooring, furniture, counters, and more can be created using this valuable resource.
By reclaiming wood that has already been harvested (sometimes hundreds of years ago) from old-growth trees that are no longer around, 2nd Chance Wood Company is creating sustainable brand new products and materials. By keeping this beautiful old wood out of landfills and reducing the need for new trees, 2nd Chance is creating materials that are beautiful, durable, and environmentally sound.
Types of Reclaimed Wood
2nd Chance Wood Co. offers a wide variety of both soft and hardwoods to meet any need or project requirement, in size ranging from ultra thin to the largest of structural beams.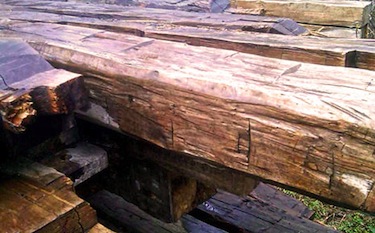 Huge Variety
Some of the products available from 2nd Chance Wood Company include:
Antique exterior Barn siding and interior pine and hardwood rough sawn wood
Hand hewn and rough sawn beams from 6x6 to 12x12 up to 30' and longer.
Planed and sawn hardwoods in White and Red Oak, Chocolate White Oak, Elm, Ash, Hickory, Maple, Black Locust, Black Walnut and others
Extra Wide pine boards to 21" wide and up to 16' long.
Large Slabs and custom Cut Pieces
2nd Chance has a full workshop and portable sawmill to supply you with the perfect wood at the perfect cut every time. Their selection changes and grows daily as they continually salvage reclaimed wood from demolition projects around Michigan.
Reclaimed Flooring and Furniture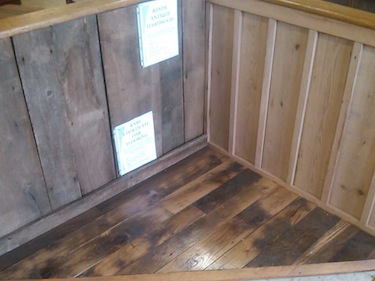 2nd Chance Wood Co. creates custom furniture from reclaimed wood that showcase the unrivaled beauty and old growth characteristics not found in newer wood products.
2nd Chance can create furniture to meet any need, and for any room in the home: bedroom, living room, kitchen.... the only limit is your imagination.
The company takes its finest reclaimed wood and custom mills it to create unique and beautiful flooring material. Not even the best brand new hardwood flooring material can match the character of a reclaimed wood floor.
About 2nd Chance Wood Co.
2nd Chance Wood Co. is a family owned and operated company located in Corunna, Michigan. They pride themselves on offering a wide variety of unique and high-quality products at fair prices. They also pride themselves on their superior customer service. You can visit their showroom in Corunna or visit the official
2nd Chance Wood
website
comments powered by

Disqus