BuildBlock Insulated Concrete Forms
GenOne Architectural Group
.
ICF Advantages
Insulated Concrete Forms are an innovative concept for constructing the walls of any type of structure, commercial or residential. ICFs are hollow foam blocks that are used to form the walls of a structure, reinforced with rebar. Once in place, the space between the two foam blocks is filled with concrete to create a wall system that provides unsurpassed strength, comfort, and efficiency. The foam board is Expanded Polystyrene, an extremely strong building material. The steel-reinforced concrete adds to the strength and provides exceptional insulation.
Insulated Concrete Forms are beneficial in several ways:
- Energy-Efficient: ICFs can reduce a home's overall energy usage from 50 to 70%, and can contribute up to 27 LEED points to a home's green certification.
- Environmentally-Friendly: ICFs reduce the need for wood frames, which in turn reduces the cutting of trees. ICFs also reduce construction waste, reducing the amount of materials sent to landfills. They do not contain any HCFCs, CFCs, asbestos, formaldahyde, asbestos, fiberglass, or other potentially harmful materials. There is no "off-gassing" associated with ICF usage, which leads to healthier indoor air quality. -
Quiet Comfort: ICF walls have high thermal mass and minimal air infiltration; this means stable temperatures throughout the home, without hot or cold spots or drafts. The high thermal mass of Insulated Concrete Form walls are also excellent at soundproofing. ICFs reduce outdoor noise infiltration into the home by 33% compared to wood-framed homes.
- Safe: ICFs contribute a high level of safety to a home. In fire wall testing, ICFs withstand exposure to intense flames much longer than wood-framed homes, giving inhabitants more time to safely evacuate and firefighters more time to save the structure. The super-strong wall structure created by the reinforced concrete ICF walls provides superior protection from earthquake damage; as recent events have shown, tornadoes and hurricanes can also inflict catastrophic damage to wood-framed structures. ICF-built homes are superior to traditionally framed homes; the concrete core provides protection from wind-driven projectiles and can withstand extremely high winds.
- Affordable: A superior wall structure made from Insulated Concrete Forms does cost a bit more upfront, but it's not as high as you might think. ICF construction typically costs around 3 to 5% more than traditional wood framing. However, that higher initial cost is quickly recouped by the energy saved heating and cooling the home. When the energy savings are factored in over the life of the home, ICFs are actually a very cost-effective construction material. Insulated Concrete Forms are financially beneficial in other ways as well; more efficient homes have higher value. A recent study conducted for the EPA Energy Star Homes Program concludes that home value increases by about $20 for every $1 reduction in annual utility bills. There are also insurance savings associated with ICFs. They are considered part of the masonry construction class, meaning they qualify for a lower insurance premium than wood-framing. And due to their superior resistance to fire and storm damage, many insurance companies offer additional discounts in addition to the lower premiums. - Permanence:Homes built with Insulated Concrete Form walls are built to last. Insulated concrete walls create a very solid feel for the home; both the foam and concrete in the ICF wall are impervious to rot, rust, or decay. The ICF walls of a home can theoretically last for centuries.
Read more about Insulated Concrete Forms HERE.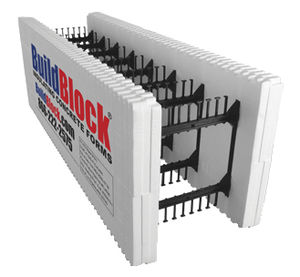 BuildBlock ICFs: The Green Choice
Not all Insulated Concrete Forms are alike; BuildBlock has been recognized as the industry leader in ICF manufacturing for years. BuildBlock ICFs are the most installer-friendly product on the market. Installer-friendly translates into money saved, construction waste reduced, and much shorter installation time .
While all ICFs can provide a superior wall system compared to traditional wood or steel framing, BuildBlock's are better, offering the following features for builders:
- Fully reversible blocks.
- Completely assembled.
- Industry standard size: 16 inches high x 48 inches long .
- Strongest interlocking connections for greater stability and precision alignment.
- Built-in 1-inch repeating cut pattern.
- Molded horizontal cut lines.
- Integrated numbered vertical cut lines.
- High-density plastic web molded into place every 6 inches on center for easier attachment of studs, cabinets, and other finishes.
- Patented and award-winning technology.
BuildBlock has manufacturing facilities located throughout the U.S. to reduce shipping distance and time. The reduced ship times and miles lowers transportation costs, and lowers even further the environmental impact of ICF manufacturing. As a result, this can result in potential LEED points for the use of Regional Materials.
To learn more about BuildBlock Insulated Concrete Form products as well as purchase information, visit the BuildBlock website.
comments powered by

Disqus