Kohler Whitehaven Self-Trimming Apron Front Sinks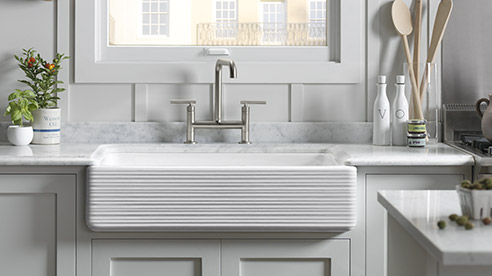 The Kohler Whitehaven line of enameled cast iron sinks are perfect for those who spend a lot of time in the kitchen preparing meals, as well as for those who are concerned about treading lightly on the Earth.
More Americans are becoming interested in cooking meals at home, and that's a good thing. The kitchen is often the focal point of the entire home, and they're being designed with function and beauty in mind. The Kohler Whitehaven line of apron front sinks bring both to kitchens of any shape or size.
Kohler Whitehaven: Highly Functional, Highly Durable
The first thing you'll notice about the Kohler Whitehaven apron front self-trimming sink is its distinctive appearance. These sinks are designed to look great. But it won't take much time using them to discover their true charm: Their rugged construction and attention to detail.
Every model in the Kohler Whitehaven line is made of enameled cast iron. This means they are built to take a beating, and to last a long, long time. They're guaranteed for life to not crack, chip, or burn.
Apron front sinks are designed to make using them easier. This farmhouse stylesink makes doing dishes delightful. Well, maybe not exactly delightful, but it makes it much less of a chore. The Kohler Whitehaven sinks are designed with a 2 degree basin slope to eliminate water pooling. Again, making the chore of washing dishes a bit easier.
Kohler Whitehaven apron front sinks are also self-trimming; the apron overlaps the cabinet or counter facing for easier installation (and, again, making washing dishes just a tiny bit easier.)
Kohler Whitehaven Sinks: Recycled and Recyclable
We're all trying to do our part for the planet, using less energy and sourcing materials more sustainably. The Kohler Whitehaven sinks are a wise choice for any green home. First of all, they're made domestically in Kohler, Wisconsin, not on the other side of the planet, employing hard-working Americans and greatly reducing the environmental costs of shipping products around the world.
Secondly, the enameled cast iron Kohler Whitehaven sinks are made from at least 80 percent recycled material. Using recycled materials reduces stresses on landfills, and uses much less energy and water to produce. Your Kohler Whitehaven sink is built to last for generations, but when the time does come for it to go, it can also easily be recycled into new products, maybe even a new sink.
For beauty, durability, usability, and sustainability, the Kohler Whitehaven self-trimming apron front sink is defiinitely worth checking out. Their line includes sinks of various shapes, sizes and colors. Want to know more? Visit their website HERE.
comments powered by

Disqus