Hortech LiveRoof System

Hortech LiveRoof System
For those of us interested in green home living, a 'green roof' typically means a roof built with environmentally-friendly materials and designed in such a way that the roof helps lower energy usage in the home. Another definition of a green roof is more literal; a roof covered with living plant material. Used for years in commercial applications, green living roofs are becoming more popular for residential use. A leader in living roof technologies is Hortech, Inc. of Spring Lake, Michigan, with their LiveRoof green roof system.
Advantages of Green Living Roofs
Installed on a homes' roof, a living green roof can dramatically increase a homes' energy-efficiency, as well as provide a beautiful reminder of your commitment to sustainability.
Green living roofs have considerable mass and thermal resistance; this means a living roof insulates the living space below, reducing heating and cooling costs. A green roof also reduces the ambient air temperature around the roof, which slows and reduces the transfer of heat into the home.
A living green roof dramatically reduces water runoff during rainfall. The plants that compose the roofing absorb and retain the rainwater in the roofs' soil medium. Stormwater runoff from hard roof surfaces is a large contributor to water pollution. A living roof reduces up to 94 percent of this runoff water.
Green roof contain thousands of living plants that filter pollutants from the air and pull carbon dioxide from the air, releasing oxygen back to the atmosphere.
The plants of a living roof also serve as a habitat for birds and other wildlife.
Hortech LiveRoof Systems:
Hortech has created a green roofing system that combines all of the environmental benefits of a living roof with an installation system that is easier to install and maintain than traditional roof systems.
Here's the LiveRoof system in a nutshell:
- The Hortech-trained grower inserts a LiveRoof Soil Elevator into the unique LiveRoof modules.
- The LiveRoof modules are filled with a specially-engineered growing soil medium.
- LiveRoof plants are raised to maturity.
- The Soil Elevator is removed, leaving behind a seamless green roof.

Benefits of a Hortech LiveRoof System:
The main benefit of a LiveRoof is a beautiful, natural, energy-saving roof system. The soil and plants on the roof creates a continual environment, allowing for equal distribution of moisture and beneficial organisms, critical to the long-term health of the green roof.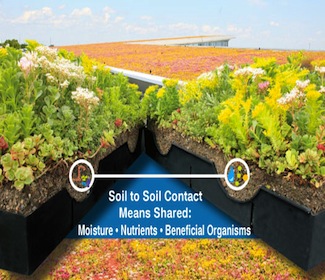 Hortech LiveRoof Modules
Since the LiveRoof system utilizes a subterranean modular system, there is no grid work or plastic edging common to traditional green roofs. The result is a beautiful, meadow-like appearance.
Other companies' systems may have exposed edges that can lead to degradation of the modules and allow for heated or cooled air from the home below to escape. The Hortech LiveRoof is like a nice thick blanket protecting your home, with no air gaps between the modules.
The LiveRoof System also allows for proper drainage of moisture from the roof, eliminating the chance of leakage into the home. Special drain channels drain water at a rate of 7 gallons per minute per linear foot.
Hortech has the knowledge and experience that is so vital to the creation of a successful living roof system. There are many things that must be done right with a green roof to avoid issues such as roof leaks and plant-related health issues. Their LiveRoof system has been designed to provide a safe, long-lasting, dependable roofing system with healthy sustainable plants. LiveRoof eliminates risky, expensive establishment periods; its benefits start as soon as the roof is installed. And once it's installed, following the LiveRoof maintenance program makes maintenance simple and inexpensive.
LiveRoof systems have been installed on over 700 projects across North America, more than 2 million square feet of beautiful, natural and sustainable living roofs.
Hortech provides a 20 year module warranty, and most LiveRoof grower/installers offer an extended one year plant warranty.
Green Homes and LiveRoof Green Roofs Go Together
With all of the environmental benefits of a living green roof, it makes sense that they would be a logical choice for green homeowners. As proof of their benefits, LiveRoof system can help a home qualify for LEED certification by earning points in a number of categories, including:
- Protect of Restore Habitat and Maximize Open Space
- Storm Water Design
- Heat Island Effect
-Water Efficiency
- Energy & Atmosphere
- Materials & Resources
- Recycled Content
- Rapidly Renewing Materials

At Green Home Source we're excited about the possibilities offered by living roof systems, and consider the Hortech LiveRoof systems at the forefront of green roof research, design, and functionality. For more information, visit Hortech's site: http://www.liveroof.com/
comments powered by

Disqus