Cree LED Light Bulbs
*UPDATE 10/2014: Cree has just introduced the next generation of LED bulbs, more 'bulb-like' and affordable than ever! Check them out HERE!*
*UPDATE 4/2014: Cree LED bulbs are now available in 60, 75, and 100-watt equivalents. Click HERE for online ordering.*
LED lighting technology is quickly becoming the standard bearer for energy-efficient lighting for the home. LEDs are much more efficient than traditional incandescent lighbulbs, but have some advantages over compact fluorescent bulbs (CFLs). While both CFLs and LEDs are roughly 75% to 80% more efficient than incandescent, LEDs last much longer (over 20 years!) and contain no harmful mercury. The new Cree LED bulbs offer the amazing efficiency of LED technology in a recognizable light bulb shape.
New Light, Old Shape with Cree
Most new LED bulbs arriving to market over the last few years have come in a wide variety of strange new shapes and sizes. While some early adaptors welcome these innovative new designs as a testament to the bulb's efficient interiors, many homeowners would rather stick with the tried and true shape of an old-fashioned incadescent bulb. By designing their super efficient bulbs with this more traditional bulb shape, Cree is positioning themselves to take over the growing LED market.
Cree LED: Efficiency on a Budget
The other thing many people notice with the new LED bulbs is their price tag: it's not uncommon for some new bulbs to cost upwards of $40 to $50. While these prices will drop over time as the new technology becomes more widespread, and the cost of the bulb will be recouped several times over with energy savings, the intitial cost is too high for many consumers. Again, Cree looks to set a new standard in LED pricing, while still offering a high-quality product.Their lightbulbs are priced for all consumers: about $10 for the 40 watt equivalent, and $13 for the 60 watt equivalent bulbs.
Cree LED: Saving Money, Saving Energy
The price of the Cree LED bulbs becomes even more attractive once you realize how much money they will save over their lifetime. The bulbs save energy; saving energy saves money. The Cree LED bulbs are 85% more efficient than a similar-brightness incandescent bulb. Depending on the wattage, they will save the consumer anywhere from $90 to $ 40 over their lifetime.
The 40 watt equivalent LED will cost about 72 cents a year on average to operate (using only 6 watts of electricity.)
The 60 watt equivalent LED bulb, consuming only 9.5 watts, will cost approximately $1.14 a year.
Attributes of Cree LED Lights
Cree's LED bulbs, as mentioned, are available currently in 40 or 60 watt equivalents, with higher brightnesses available soon. These bulbs come in either a warm white (2,700 K) or daylight white (5,000 K) that unlike CFL bulbs have a light quality virtually indistinguishable from incandescent light.
They have an operating lifetime rated at 25,000 hours. That's a long time.
Cree LED bulbs are instant-on, and flicker-free, and provide omni-directional light. They are fully dimmable, UL-rated for damp locations, and mercury free. All bulbs are made with safety-coated glass.
For those looking for "lightbulb shaped" light bulbs, the high-quality Cree LED bulbs are affordable enough to begin replacing older bulbs around the house today; the planet, and your pocketbook, will thank you.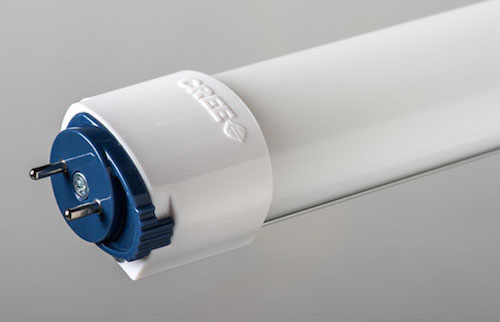 For commercial applications, or residential applications that use 4-foot linear tube lamps, Cree now offers the
T8 linear lamp
. These lamps are compatible with almost all existing ballasts, and use 30% less energy than fluorescents. Learn more about the
Cree T8 HERE
.
For more information, visit the official Cree website.
comments powered by

Disqus