S'Well Bottles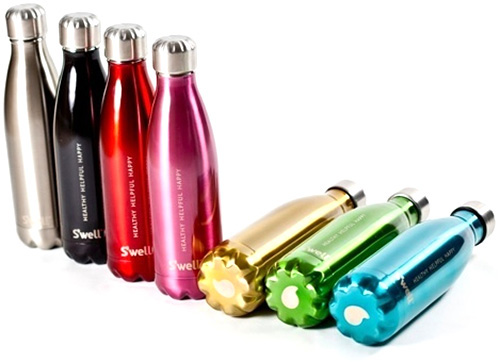 Stuff We Like: S'Well Bottles
In our busy lives, it can sometimes be difficult to live a green lifestyle while on the go. That's why companies like S'Well Bottles are so important: they make it so much easier to reduce our environmental impacts, every day, and everywhere we go.
Ditch the Plastic with S'Well Bottles
We're living on a planet that's choking on plastic, and there's no greater guilty party than plastic water bottles. 30 billion plastic water bottles are purchased every single year in the U.S.: these bottles require lots of oil (17 million barrels) to produce and lots of energy to transport (40,000 diesel-spewing semi-trucks worth). There's no reason why we're using so much polluting plastic other than the undeniable convenience. Fortunately, there are companies out there producing viable, reusable alternatives . Reusable water bottles (or coffee, hot cocoa, or any other type of beverage) are a much better choice for the planet. Reusable bottles use much less energy (both to produce and transport) and eliminate landfill space. One such company, Swell Bottle, has become one of our favorite things.
The S'Well Bottle Story
The more we learn about the subject, the more we realize the importance of staying adequately hydrated to our overall well-being. We like to have our beverages nearby, at all times. But as stewards of the Earth, we want to ditch the plastic. S'Well Bottle reallized this conundrum, and set out to create a replacement for the plastic bottle that is more sustainable and healthy. But in addition to the benefit of eliminating throwaway plastic bottles, Swell Bottles have a lot of other benefits going for them.
Durable Stainless Steel: Our main criteria for any reusable drinking bottle is clear: Eliminate plastic ! S'Well Bottle does this with attractive and highly-functional stainless steel bottles. Americans toss 60 million plastic bottles each and every day. Disgusting!
Every S'Well Bottle will replace 3,000 plastic bottles throughout an average life span.
Clean and Non-Toxic: Most reusable bottles are made from plastic. While they eliminate throwaway bottles, there are concerns about the plastic itself. S'Well Bottles are BPA-free (Bisphenol A, a toxic component of plastic), non-leaching 18/8 food-grade stainless steel. In addition to being completely non-toxic, stainless steel is easy to clean and won't pick up odors or taste from different beverages.
Insulated: S'Well Bottles are insulated, and insulated very well. Their design will keep hot drinks hot for over 12 hours, and cold drinks cold for an incredible 24 hours! The bottles' cap is wide enough to drop ice in, where it'll stay frozen for a very long time. The S'Well Bottle cap is designed to be leak proof, and is tight enough to keep carbonated beverages nice and fizzy, the way they should be. As a bonus, the S'Well Bottle keeps things hot or cold without any condensation on the outside of the bottle.
Variety in Color and Texture: Everybody's got their own style, and so does the S'Well Bottle. There's a color option for any taste, and the bottles are available in four textures: stone, matte, shiny, and glitter.
Three Sizes to Choose From: Swell Bottles are available in 9, 17, and 25 ounce sizes. No matter the size, each S'Well Bottle is designed to fit in a standard automobile cup holder.
Customizable: Slap a company logo (or anything else) on your S'Well Bottle. S'Well Bottle makes it easy to brand your bottle any way you want.
Swell Bottle: Giving Back
The founders of S'Well Bottle understand that in addition to turning a profit and producing a sustainable product, it's equally important to give something back. S'Well Bottle partners with many different charitable organizations working to better the health of the planet and strengthen communities worldwide.
S'Well Bottles' main charity partner is Water Aid, which receives a donation for every single S'Well Bottle sold. Other charitable groups benefit from the sale of specially-branded bottles, groups like American Forests, Keep a Child Alive, and Drink Up.
We love companies that are doing the right thing, and who care about more than the bottom line. S'Well Bottle is one of those companies. Check them out at their official website HERE.
comments powered by

Disqus