Cree Connected LED: Affordable Smart Bulbs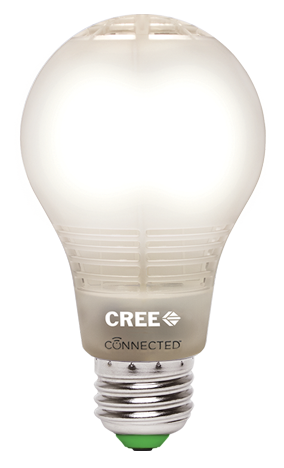 The New Cree Connected Bulb
Once again, Cree is proving that it is at the forefront of high-quality, low cost LED light bulb technology with their new Connected smart LED bulb. This new bulb has all the features that make LED bulbs so attractive (energy-efficiency, long 25,000 hour lifespan, dimmability) with the ability to be programmed and controlled from anywhere on earth.
Cree Connected LED: Smart Choice for the Smart Home
The internet is abuzz with talk of the new "Smart Home." The Smart Home is one filled with appliances, lighting, and heating/cooling systems that can be controlled via a smartphone or computer. From anywhere. With the connected technology available today, you can turn up the heat and lights on your way home from work, open or close curtains, check the fridge to see if there's enough milk, and so on.
Smart light bulbs were among the earliest products available for consumers in the smart home category, but they came at a price. Early entries in the smart bulb market, like the Philips Hue and GE Link, were pretty expensive for light bulbs ($75 and $60 per bulb, respectively.) The ability to turn lights on or off remotely, or even change the color of the lights, came at a price. The new Cree Connected bulb, like their earlier "regular" LEDs, are poised to stir up the market with their super-affordability; the Cree Connected will be available for an almost unimaginably low $15 each (for the 60-watt equivalent bulb; brighter versions will come later.)
Cree Connected: Compatible with the Most Popular Smart Hubs
Another selling point of the new Cree Connected smart bulbs are their compatibility with several brands of smart hubs (the hardware and software that controls all of the home's smart products.) At release, the Cree bulbs will work with the popular Zink and Zigbee smart ecosystems, with future rollouts for the Staples Connect and SmartThings hubs. The bulb's controller app works on both the iOS and Android smartphone operating systems.
Attributes of Cree Connected LED Bulbs
The Cree Connected bulbs will last a very, very long time: They're rated for 25,000 hours. If you left a Cree LED bulb on all the time, 24/7, it would last three years.
To produce the 815 lumens of light, comparable to a 60 watt incandescent bulb, the Cree smart bulbs use only 11.5 watts for significant energy savings. The warm, 2700K light they produce is very similar to incandescents as well.
Cree LED bulbs are instant-on, and flicker-free, and provide omni-directional light. They are fully dimmable, UL-rated for damp locations, and mercury free. All bulbs are made with safety-coated glass.
The Cree Connected Smart LED bulbs will be available to purchase online in late January 2015, and in Home Depot stores in February 2015.
Read more about other Cree LED light products HERE.
For more information, visit the official Cree website.
comments powered by

Disqus