Welcome to Green Home Product Source
Great Product Reviews To Help You Live The Green Life Style!
Although this website focuses on products used in the construction and renovation of a home that will ultimately make it more environmentally friendly, remember that green building is an all-encompassing subject, and the selection of green building products is only the beginning. Green building includes such issues as: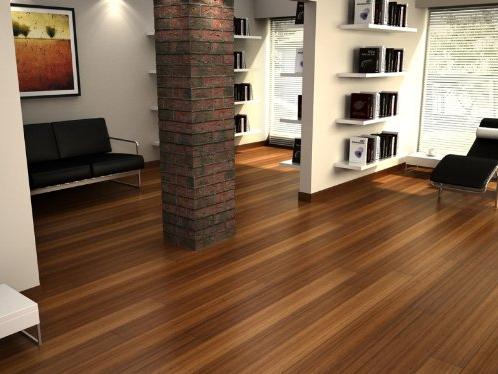 Carbonized Bamboo Wood Flooring
Construction or renovation of a home to save energy: A green building will be built to reduce energy usage and cost. This includes selecting energy efficient HVAC equipment, insulation, windows, doors, and more.
Building Size: The square footage of your home is a critical factor in green building. A smaller building uses far fewer resources, requires less construction time, and typically uses far less energy over time to heat and cool.
Home Durability: A green home is built to last. It should be designed and built to shed water and moisture and keep occupants from from exposure to insects, mold and toxic gasses from building materials. A quality, well-built home will last for years and years, reducing long-term costs and resources.
When building or renovating your home, you should make all efforts to adopt as many green design principles and environmentally-friendly products as your construction budget will allow. Keep in mind that a little extra cost up front for green materials will pay off down the road in lower energy costs.
What Makes a Product Green?
There's no simple answer to this relatively simple question. There are many factors that determine whether a product is green or not. Some of these factors are:
Health impact of the product. (does it contain hazardous chemicals that can sicken us?)
Life cycle of the product
Recycled content in the product
Renewable materials used in the product
Durability of the product
The challenge comes in the selection of a green product that balances all of these factors in a way that will provide you with an ideal product solution that will meet your needs, provide the appearance you require, and fit within your budget.
At Green Home Source, we will examine each product with all of these factors in mind, and either recommend the product or offer a better alternative.
These product reviews will help to provide you with the catalyst for creating the ideal eco-friendly homebuilding solutions.
The Green Home Source Team
What's New At GHS
We have added Article and Web Search Functions, located at the right sidebar of each site. The top box can be used to search keyword topics for all of our sites which will provide a list of articles and links.
We also have links to our retail partners Home Depot and Amazon for a great selection of energy-saving products for your home.