SnapRay Guide Lights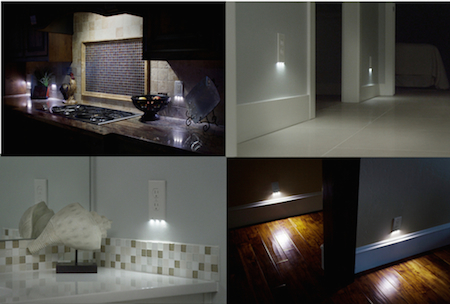 Snap Power has introduced a new alternative to plug-in night lights and hardwired guide lights. The SnapRay Guide Light is an easy to install, highly efficient way to bring the safety and beauty of light to anywhere there is an electrical outlet in your home.
The SnapRay Advantage
We use night lights or wired guide lights in our homes for a number of reasons; illuminating dark stairways, hallways, decorative accent lighting, childrens' nightlights.... whatever the reason, the new SnapRay Guide Light makes that lighting easy and efficient, without the need for any additional wiring, and without taking up any electrical outlets.
The unique advantage of the SnapRay Guide Light is its' effortless installation. The SnapRay replaces an ordinary outlet cover with a new cover that contains LED lights, pointed downward at a 45 degree angle. Installing SnapRay couldn't be any easier. Turn off the power to the outlet, remove the old cover, slide the SnapRay cover in place, and screw it in.Once the power is turned back on, a built-in sensor in the SnapRay outlet cover will turn the LED lights on when it's dark.
How SnapRay Works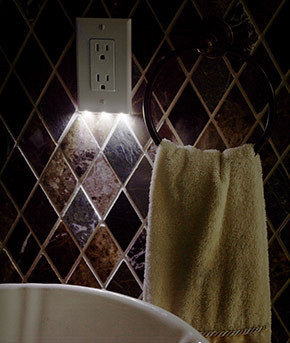 The SnapRay Guide Lights work without any batteries or wiring. But how? This is the unique SnapRay advantage. There are two small tabs on the back of the SnapRay Guide Light that come into contact with the electrical terminals on the outlet; these tabs (SnapRay calls them "Power Extractors") draw power from the terminals to light up the LEDs. This proprietary technology is unique to the SnapRay Guide Light. It makes it possible to turn any existing electrical outlet in your home into a tiny lighthouse, providing light in the darkness wherever it is needed.
LED Efficiency
The light provided by the SnapRay Guide Lights comes from highly energy-efficient LEDs. They draw just 5 mA of power. In laymans' terms, that's about 5 cents worth of electricity per year based on average power costs. These efficient LED lights are also built to last roughly 25 years with normal usage.
Uses for SnapRay Guide Lights
SnapRay Guide Lights can be used in place of a regular night light. They're perfect for childrens' bedrooms or play areas, as they cannot be removed or knocked out of an outlet like a night light. Since they look just like a traditional outlet cover, they blend in to any decor, in any room of the house.
Specifications and Options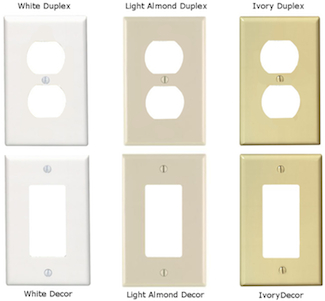 As mentioned, the SnapRay Guide Lights can be used in any regular electrical outlet. They are NOT compatible with Ground Fault Circuit Interrupter outlets (GFCI) sometimes found in kitchens or bathrooms. Also, SnapRay lights will only work in outlets where the ground prongs are facing down. If an outlets' ground prongs face up, the SnapRay Guide Lights will also face up. SnapRays are made from high grtade high impact plastic for durability. They are UL listed for safety, and are available in several color and design options (pictured at left.)
SnapRay Guide Lights are demonstrating the usefulness, efficiency, and flexbility of LED lighting technology. They make providing safe and attractive lighting affordable, efficient, and effortless to install virtually anywhere in the home.
SnapRays are currently available for pre-order at the SnapRay website with an estimated availability date of Spring 2014. Introductory prices are $15 for one SnapRay, $42 for a three pack, $65 for 5, and a Whole Home Pack of 10 SnapRay Guide Lights for $120. Click HERE for more information.
comments powered by

Disqus