Robert Andrews, Green Home Product Source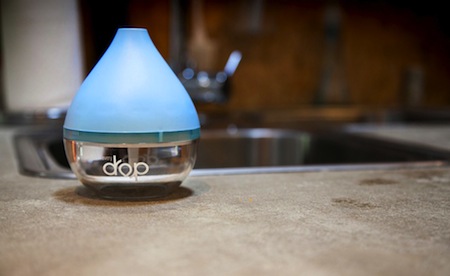 Clean water: It's one of the most basic necessities for life itself. The healthy benefits of water to human health has created a multi-billion dollar bottled water industry. The Whirlpool EveryDrop water filter was created to give users clean healthy water on-the-go, economically and without wasteful plastic bottle packaging.
The Whirlpool EveryDrop water filter was created to filter water wherever you are: home, office, school, fitness center....wherever there's a water source, you can easily have clean, filtered water with this EveryDrop portable filter.
The EveryDrop filter features a replaceable microcontaminant filter that filters out chlorine, chloramine, and other contaminants that may be found in municipal or well water . The result? Clean, delicious water without any unwanted tastes or odors.
Unlike other water filtration systems that connect directy to a faucet or that are large water containers with built-in filtration, the Whirlpool EveryDrop water filter goes where you go, allowing you to filter water anywhere. It's small and portable, and has its own protective travel case to keep it safe and clean.
The Bottled Water industry has turned Americans into big-time water drinkers, and by all means that's a good thing. Water is critical to our health, and much healthier than soda pop, alcohol, and other beverages. But while bottled water makes clean water accessible, it's extremely expensive and creates millions of pounds of plastic waste.
Bottled water may seem inexpensive on the face of it, but when you consider the fact that a $1 bottle of water contains just a few cents worth of water (at most), it becomes clear that bottled water is making some companies very, very rich by selling us a product that is available to us out of the tap at a tiny fraction of the bottled water cost.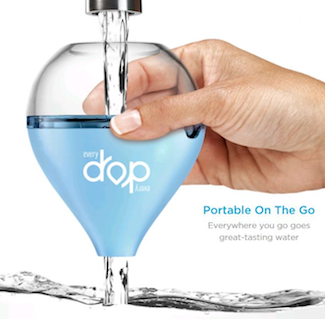 Creating billions of plastic water bottles out of nonrenewable plastic made from petroleum, most of which are used once and sent to a landfill or incinerated, makes no sense from an ecological point of view.
The Whirlpool EveryDrop water filter creates a solution to both the cost and the ecological issues associated with plastic water bottles.
By refilling reusable containers with water filtered through the EveryDrop, you get the same healthy water, and the same portability, at a fraction of the cost. The EveryDrop microcontaminant filter needs to be replaced only once every six months, or after filtering 60 gallons of water. This is equivalent to about 450 water bottles.
Imagine for a moment what 450 water bottles looks like: that's a lot of plastic that can be replaced with one small EveryDrop filter.
Clean water is crucial to all of our lives. Stop the plastic water bottle insanity and go portable with the EveryDrop water filter. It goes where you go, giving you delicious water wherever you need it. Paired with an eco-friendly reusable bottle (like the Klean Kanteen, which we love), the EveryDrop is a simple, elegant solution.
The EveryDrop filters water quickly, about 1 gallon per minute. It's as fast as it is portable.
Whirlpool makes the EveryDrop in the United States, making it an attractive alternative to other water filters made in China or other countries.
The Whirlpool EveryDrop can be ordered from Amazon.
comments powered by

Disqus